Decatur Medi Clinic Website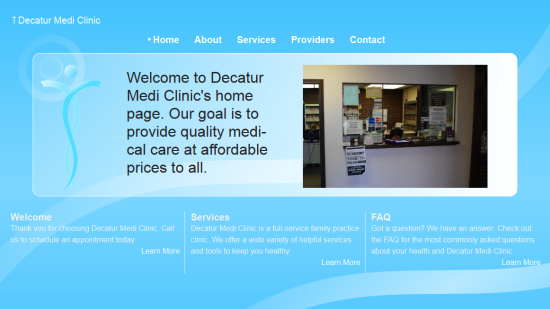 Type: Website
Client: Decatur Medi Clinic
Link: http://www.decaturmediclinic.com
After designing a new logo for Decatur Medi Clinic, Red Rook Royal was approached to build a new website for them. The resulting site focuses on a clean layout with sky blue and white hues.
Since this website is for a doctor's office in a small town, it serves as a basic information website and also as a public relations piece. On the majority of pages, where appropriate, there is a randomly generated sidebar that rotates through four slides. The slides are Caring, Community, Mission and Quality. Each slide goes into depth of the values of the clinic and shows its deeper connection to the community.
The pictures for the website were taken during a special session by Red Rook Royal and the background image was custom designed for the website. The website is bespoke, hand coded in html5, css3 and jQuery.